NEWS


THANK YOU !!!
THE GAME is certainly no longer the youngest film in the night sky. Time to look back one last time and say THANK YOU!
​
​
​
​
​
​
​
​
​
​
​
​
A few years ago I kept asking myself: Do you really want to make a film about football? Are you sure? These doubts resulted in this film and I am very grateful for all that I have been able to experience since then.
This film has been screened at over 100 festivals around the world, a number I never expected. Unfortunately, I can't help but mention that this experience has been marred time and again by the pandemic.
However, the film would not have become what it is today without the trust of the protagonists and the incredible dedication of the crew.
THANK YOU Fedayi San!
THANK YOU TEAM:
Lukas Gut, Franziska Sonder, Rolf HellatOscar Parcival van Hoogevest, Ramón Königshausen, Lena Mäder, Salome Wüllner, Justin Stoneham, Eva Meyer
AND THE GREAT SUPPORT OF:
Square Eyes, Wouter Jansen, Ouat Media, SWISS FILMS

My next project takes me into space with ESA - European Space Agency. STAY TUNED XX Roman
NEWS

Update


Festival and Award news!
NEWS

The New Yorker
DAS SPIEL is now officially part of THE NEW YORKER DOCUMENTARY line up! Finde the Article here.
KINO
Football Inside & Das Spiel CH-Kinos Start
Unser Film läuft im Vorprogramm von Football inside. Kino in der nähe findest du hier.
​
NOMINATION
Academy Awards
and Swiss Film Award
The year 2021 gets off to an exciting start! "THE GAME" is on the longlist for the Academy Awards and nominated for the Swiss Film Award!
AWARD
Cairo Film Festival - Special Jury Award
I was in Cairo at the CIFF. My first festival since the premiere with a physical participation.
AWARD
Zürcher Filmpreis - Bester Kurzfilm
What a week! Hier gehts zur Jurybegründung.
​
AWARD
Special Mention and two Awards
On Sunday "DAS SPIEL" received a Special Mention at the
Congratulations to our editor Rolf Hellat - well deserved!
FESTIVAL
Dutch and Swiss Premier
​
AWARD
HIFF - Best Documentary Short
​
LAB
Zurich Film Festival
I was part of this year's "Academy" at the
ZURICH FILM FESTIVAL. It's been five wonderful, inspiring days with this talented group of filmmakers!
​
FESTIVAL AGENCY
Square Eyes
DAS SPIEL is now part of the SQUARE EYES portfolio, "an agency which helps outstanding non-mainstream films to find the audience and recognition they deserve."
​
FESTIVAL
US Premiere @ Hamptons International Film Festival!
See full program here.
​
​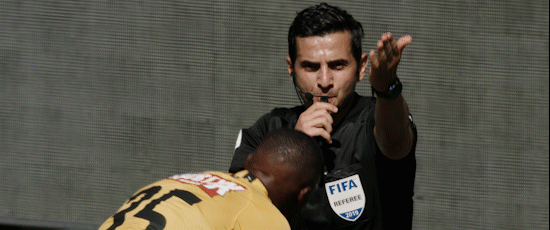 PRESSE
Luzerner Zeitung: "Luzerner Filmer brilliert in Venedig"
«Durch Anonymität werden die Leute oft ja auch angreifbar – das ist nicht nur beim Schiedsrichter so.» Der Blick aber verändert sich, wenn man mehr über die Person erfährt, die auch ihre Ängste und Zweifel hat – und einen Vater, der beim Spiel mit im Stadion sitzt.
​
PRESSE
Ubiquarian Review
The concept in the film's centre is rock-solid, while the technical work, such as Lukas Gut's cinematography, Oscar van Hoogevest's sound design and especially the editing by Hodel himself and Rolf Hellat, effectively creates the tension of the football match. It is some Champions League finals level of work.
​
FESTIVAL
The Game Premiere in Venedig!
​
PRESS
Tagesanzeiger: "Der Schweizer unter den Weltstars"
Adrenalin auf dem Fussballfeld: Der 30-jährige Regisseur Roman Hodel ist mit «Das Spiel» an die Top-Festivals in Venedig und Toronto eingeladen worden.
​
PRESS
SRF-Radio: "Wenn der Schiri für einmal die Hauptrolle spielt"
Roman Hodel ist kein Fussballfan. Trotzdem wollte der Filmer wissen, wie ein Fussballschiedsrichter ein Spiel erlebt.
​
PRESS
PILATUSTODAY: Luzerner Filmemacher: «Für den Schiedsrichter interessiert sich niemand»
- Als ich Fedayi kennenlernte, war auf Anhieb klar, dass ich diesen Film unbedingt machen möchtet.
​
FESTIVAL
The Game @ Toronto International Film Festival!
We are happy about this festival dream start. After Venice, "The Game" is part of TIFF's "Short Cuts" program.
​
"A welcome tonic for these sports-deprived times, Roman Hodel's incredibly dynamic and wryly humorous documentary presents a high-tension soccer match from the perspective of an ever-vigilant referee." - TIFF
Announcement: "DAS SPIEL" is now working together with the wonderful Canadian sales and distribution company OUATMEDIA!
FESTIVAL
World Premier 2020 in Venezia:
"DAS SPIEL" will celebrate its Premiere at the 77th Venice International Film Festival 2020! YES!
See the full program

here

.
Picture Lock - Color Grading - Sound Design
Drehende
Letzter Drehtag in Genf mit Ishak San, Fedayi San & Salih San.
Grosser Drehtag 3/3
16 Crewmitglieder, 8 Kameras, über 25 Mikrophone, ein Schiedsrichter.
Cannes 2019: We were selected to pitch "The Game" at the "Focus Work in Progress" ​in Cannes! This footage and Music were never used in the final Film: