FESTIVAL
US Premiere @ Hamptons International Film Festival!
See full program here.
​
​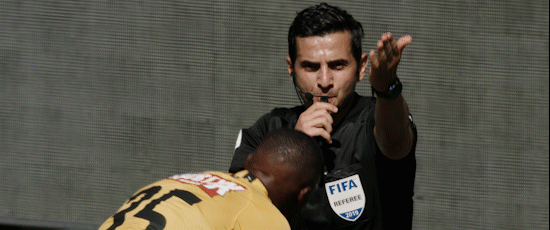 Presse
Luzerner Zeitung: "Luzerner Filmer brilliert in Venedig"
«Durch Anonymität werden die Leute oft ja auch angreifbar – das ist nicht nur beim Schiedsrichter so.» Der Blick aber verändert sich, wenn man mehr über die Person erfährt, die auch ihre Ängste und Zweifel hat – und einen Vater, der beim Spiel mit im Stadion sitzt.
​
Presse
Ubiquarian Review
The concept in the film's centre is rock-solid, while the technical work, such as Lukas Gut's cinematography, Oscar van Hoogevest's sound design and especially the editing by Hodel himself and Rolf Hellat, effectively creates the tension of the football match. It is some Champions League finals level of work.
​
FESTIVAL
The Game Premiere in Venedig!
​
PRESS
Tagesanzeiger: "Der Schweizer unter den Weltstars"
Adrenalin auf dem Fussballfeld: Der 30-jährige Regisseur Roman Hodel ist mit «Das Spiel» an die Top-Festivals in Venedig und Toronto eingeladen worden.
​
PRESS
SRF-Radio: "Wenn der Schiri für einmal die Hauptrolle spielt"
Roman Hodel ist kein Fussballfan. Trotzdem wollte der Filmer wissen, wie ein Fussballschiedsrichter ein Spiel erlebt.
​
PRESS
PILATUSTODAY: Luzerner Filmemacher: «Für den Schiedsrichter interessiert sich niemand»
- Als ich Fedayi kennenlernte, war auf Anhieb klar, dass ich diesen Film unbedingt machen möchtet.
​
FESTIVAL
The Game @ Toronto International Film Festival!
We are happy about this festival dream start. After Venice, "The Game" is part of TIFF's "Short Cuts" program.
​
"A welcome tonic for these sports-deprived times, Roman Hodel's incredibly dynamic and wryly humorous documentary presents a high-tension soccer match from the perspective of an ever-vigilant referee." - TIFF
Announcement: "DAS SPIEL" is now working together with the wonderful Canadian sales and distribution company OUATMEDIA!
FESTIVAL
World Premier 2020 in Venezia:
"DAS SPIEL" will celebrate its Premiere at the 77th Venice International Film Festival 2020! YES!
See the full program

here

.